Trusted Commercial Roofing Contractors
Cruz Roofing & Siding has experienced teams of commercial roofing contractors who can repair or replace your roof. Whether it's a flat, low-slope, or steep-slope building, we offer a variety of products from leading manufacturers. We want to help you protect your business.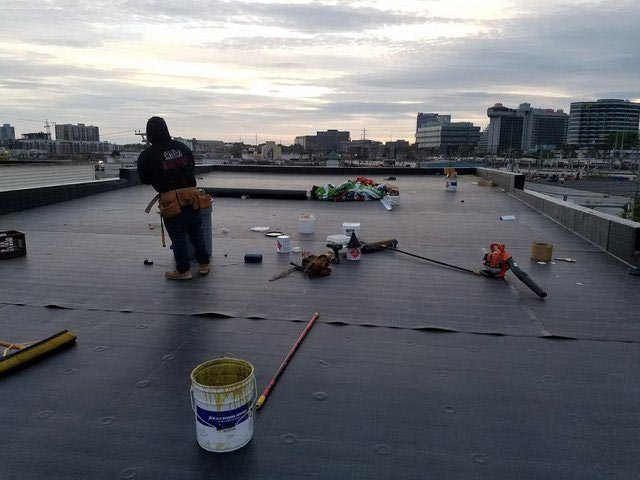 Inspections & Maintenance
Most commercial building managers know that keeping a building well-maintained is key to keeping repair expenses to a minimum. When it comes to roofing, regular inspections and roof maintenance also help a roof last longer. If you don't have commercial roofing contractors you trust for regular roofing inspections and maintenance, call Cruz Roofing & Siding to learn about our comprehensive inspections and roof maintenance plans.
Commercial Roof Coatings
With so much focus on the environment, you may wonder if you can really reduce your building's impact. Because many older roofs are black or dark-colored, a roof coating can help reduce cooling costs. Roof coatings also extend the life of the roof which means less waste in the landfill. An added bonus is that a roof coating seals small cracks in the roof's surface and costs significantly less than a roof replacement. Let us determine if a roof coating is right for your roof.
Re-Roofing
There comes a point when every building needs a new roof. If you're looking for a commercial roofing contractor that will replace your roof with minimal disturbance to your employees or tenants, Cruz Roofing & Siding is the company to call.
Emergency Roofing Services
If your building sustains damage or develops a roof leak after hours, call Cruz Roofing & Siding. We offer emergency roof repair any time of the day or night.
Contact Us Today
Let Cruz Roofing & Siding prove to you why we're the commercial roofing contractors so many Connecticut businesses trust. You can schedule your appointment by calling (203) 685-2548 or by completing our contact form.