Cedar Impressions® Siding From CertainTeed
There's no arguing that cedar siding adds a level of elegance and sophistication to any home. However, the maintenance and expense of real cedar siding prevents many homeowners from considering it or installing it again. Cruz Roofing & Siding has the perfect solution, CertainTeed's Cedar Impressions® siding that gives the look of real cedar without the maintenance.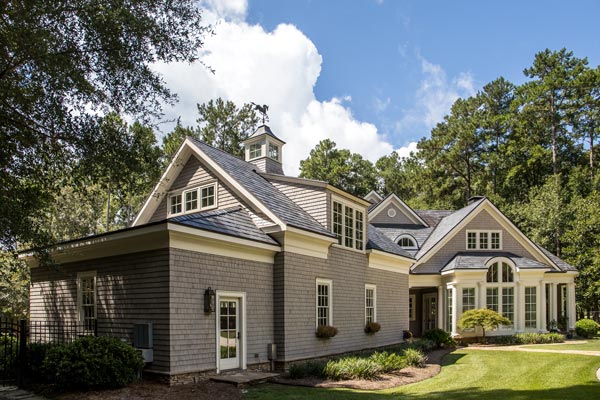 Stunning, Affordable & Timeless
If you really want the look of cedar without the expense and maintenance, Cedar Impressions is an ideal choice. Depending upon the style you choose, it is available in up to 23 color blends. Here are some of the outstanding siding styles from CertainTeed:
Individual Sawmill Shingles – This option comes in nine color blend color options that never need painting. It mimics real cedar so your home has a look all its own.
Single Straight Edge – Available in 5" and 7" options, gives the look of cedar straight from the sawmill. With over 20 colors available, you can create a custom look for your home's exterior.
Straight Edge Rough-Split Shake – If you want the random look of real cedar shake, consider this option, available in 17 colors. This style works beautifully on both historic and modern homes.
Double Straight Edge – The TrueTexture™ design of these shingles looks and protects like real wood. It's virtually impossible to spot the seams with the Molded Perimeter Lock™.
Double Staggered Perfection Shingles – If you want the look of individual shingles without upkeep, consider this option. You can install it on your whole home or as an accent.
Cedar Impressions siding is tested against hurricane-force winds, something real cedar shake can't always withstand. And because it is made from polymer rather than vinyl, it's more environmentally friendly.
Contact Cruz Roofing & SidingToday
Whether you're interested in learning more about Cedar Impressions siding or another siding option, Cruz Roofing & Siding can help. Our experienced team will create the look you want for your home's exterior. Schedule your free consultation and estimate today by calling (203) 685-2548 or by completing our contact form.